Press Information
Since 1976, SailAway has been recognized as a leader in the yacht charter industry. Our clients are primarily high-profile executives and luminaries in the entertainment industry.
Our mission is simple -- to arrange discreet, private, high-class, luxury yacht charters for discerning clients.
SailAway's dedication to customized, consultation services has brought us recognition by the press and the media as trusted yacht charter authorities. Our consultants have been interviewed and quoted in such publications as Forbes, the Chicago Tribune, the Marine Business Journal, The Miami Herald, Travel Weekly, and the San Jose Mercury News.

VOTED BEST PRIVATE CRUISE
SAILAWAY YACHT CHARTER CONSULTANTS
Published on November 18, 2002
By Christina Valhouli, Travel Editor
Our top choice for the best private cruise. The Miami-based SailAway has access to more than 750 yachts, and ships can come fully manned so guests never have to worry about navigating or restocking the refrigerator. Do-it-yourselfers can have a non-crewed ship. SailAway can arrange for a charter flight to bring guests to the yacht, as well as a personal charter consultant, who acts as the guests' personal concierge. Ultra-luxury crewed yachts range from $25,000 to $250,000 per week.

REALITY CHECK: US'S RICH MAINTAIN SPENDING THROUGH DOWNTURN
Published on September 30, 2002
By Gary Rosenberger, MarketNews International
F. Scott Fitzferald would have been wrong about the response of the wealthy to the latest economic downturn -- the rich are not all that different from the rest of us
"the rich don't want to travel far...," said Jana Sheeder, president of SailAway Yacht Charter Consultants in Miami, which offers yacht trips that cost as much as $250,000 a week. "Everyone is being more careful, no matter how much money they make," Sheeder said. "But even the wealthiest still have to go on vacation."
Her biggest recent deal was for a "glacier trip" on the order $150,000 in which a group of business people was feted with $1000 bottles of wine and $300 tins of caviar...

COST OF CHARTERING BOAT DEPENDS ON SIZE, SEASON, CREW
By Kathryn Clayton, Salt Lake Deseret News
"Crewed yachts are the floating hotel mentality," said Jim Araiza during a telephone interview. He is co-owner of SailAway, a yacht charter company based in Miami that offers boats in locations around the world. "You have a professional skipper and an onboard cook. They server as your concierge and your guide. It's a complete package..."

OUTLANDISH: IF YOU CAN AFFORD IT!
By Karen Koch, Los Angeles Times
For those who want to chart their own millennium courses, SailAway Yacht Charter Consultants, Inc. offers an array of yachts. The Starship, one of the company's mega yachts, is equipped with such water-sport toys as fishing, scuba and snorkel gear; a Jet Ski; water skis; a Waverunner; 30-foot speedboat... The yacht comes with the services of an eight-person crew, including a chef who has extensive culinary...

WHO'S ON YACHT OF THE STARS?
By Ian Shapira, The Boston Globe
Sean "Puffy" Combs and Mariah Carey are just a couple of the folks who regularly lease a yacht from SailAway Yacht Charter Consultants, based in Miami, Fla. So one has to wonder who traipsed into Quincy's Marina Bay aboard SailAway's Startship, a 143-foot motor yacht equipped with a Bell Jet Helicopter -- launch pad included. Alas, no loose lips sank the clientele's privacy; crew members did not give an inch, but SailAway co-owner Jim Araiza said the guests were probably friends or relatives of...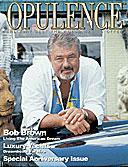 THE EASY WAY TO CHARTER A YACHT
SailAway understands the needs of the affluent traveler
By Savannah Middleton, Opulence Magazine
the rich and famous can turn to a company that specializes in arranging these discreet yachting holidays. The company is known as SailAway Yacht Charter Consultants, but every celebrity's little black book contains the simple name, SailAway.
Understanding the preferences and demands of affluent travelers has helped SailAway sustain a position as one of the most recognized names in the charter industry. "Many people seem to resent the personal demands of sophisticated travelers," says Jana Sheeder, President of SailAway. "We actually appreciate and embrace those preferences. Our goal is to create a totally customized escape - itineraries, timetables, and destinations are all flexible preferences decided by our clients."